Most drivers understand the importance of regular oil changes. However, did you know that engine oil can be separated into two categories: synthetic and conventional? Not only that, but choosing one over the other can really affect your car's performance.
Our team at Joe Pecheles Audi has put together this article to help Greenville, New Bern, and Raleigh drivers choose the right oil for their car. Read on to learn more.
Choosing a Cost-Effective Option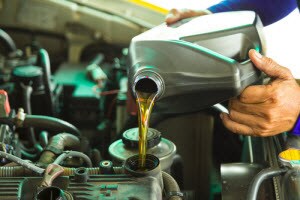 If you're wondering what the big difference is between conventional and synthetic oil, it all comes down to how they're made.
Conventional oil is about as close to crude oil as you can get. The oil is taken straight from the ground, but has received a bit of additional enhancing to ensure its suitability for engine use.
Synthetic oil, on the other hand, is man-made. It's been created with components similar to conventional oil; however, it's also enhanced for better viscosity and protective qualities.
For this reason, it's not hard to imagine why synthetic oil is a bit more expensive. Since it's an altogether augmented oil that better protects the engine, it's well-worth those extra pennies. Nevertheless, conventional oil will still get the job done, depending on external conditions. It can even help you save some money in the long run.
The Weather Can Affect Your Oil
Believe it or not, weather is a huge factor when it comes to choosing the right oil. In particular, weather extremes, such as high heat or frigid cold, can cause your oil to break down quickly or alter its viscosity (preventing it from flowing through the engine effectively).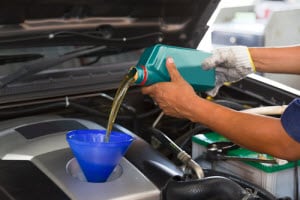 Despite its many uses, conventional oil just seems to break down in extreme weather conditions. Synthetic oil, on the other hand, was designed to perform perfectly under these conditions.
How Hard Are You Wearing Down Your Car?
So, you're not going to be facing any prolonged extreme temperatures where you live. The next question you should then be asking yourself when choosing oil is, how hard do you intend to drive your car?
Conventional oil is a solid and economical choice in its own right, with many uses. Still, the fact of the matter remains: it breaks down easily.
Say you've got a turbocharged engine or a few extra cylinders under the hood. Potentially, you may be putting the pedal to the metal more often. Either that, or you're using that muscle for towing jobs. The strain of both may be too much for conventional oil.
If you're going to drive your car hard, then you'll definitely want to choose synthetic oil. It'll simply hold up better over time.
Need More Help Choosing the Right Oil for Your Car?
While we feel that we've laid out the differences between conventional oil and synthetic oil pretty well, Greenville, Raleigh, and New Bern drivers may still have a few questions. If you do have questions, don't hesitate to contact the Joe Pecheles Audi team.
Our technicians know more than enough to help you select the right engine oil. Contact them today for more information, or schedule your next oil change.
Make an Inquiry
* Indicates a required field
Hours
Monday

9:00am - 7:30pm

Tuesday

9:00am - 7:30pm

Wednesday

9:00am - 7:30pm

Thursday

9:00am - 7:30pm

Friday

9:00am - 7:30pm

Saturday

9:00am - 6:00pm

Sunday

Closed