At Pecheles Audi, we've established a name for ourselves by serving drivers prompt and professional brake service in Greenville, NC. Our customers realize the importance of keeping their brakes in dependable working condition. We understand the value of carrying out those services in a timely manner, so that you can get back behind the steering wheel. Your car's braking system is imperative to the safe operation of your vehicle. If you believe that there may possibly be an issue, you should have it checked out immediately by one of our auto technicians.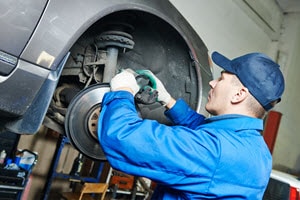 Brake Pads
When you bring your vehicle in for a multi-point inspection, one of the primary things we'll examine is the brake pads. These crucial parts push against the rotors when you push down on the brakes. The pressure generated by the brake pads will slow down the rotation of the wheels and eventually stop the vehicle. As you can assume, there's a great deal of friction and heat involved in slowing down your car or truck, and the brake pads will slowly wear down over time.
In the event that your brake pads are quite low, you may hear a high-pitched screeching sound whenever you push on the brakes. That sound is brought on by a little section of metal on the brake pad that's crafted to signal drivers when the pads are significantly low. In a case where you come across that sound when you step on the brakes, you'll want to bring your car to Pecheles Audi to have your brake pads changed out. Without any working brake pads, your car won't be able to stop accordingly, and it could lead to additional damage to the rest of your vehicle.
Brake Rotors
As mentioned in the section above, your rotors are the element of the vehicle's braking system that the brake pads push against to slow your car or truck. These round, metal discs are connected to your tires and are uniquely crafted to dissipate heat and cool down as quickly as possible. Regardless of their innovational design, in time, these parts can also end up being worn down or warped. Concerns with your rotors are intensified when your brake pads may not be functioning completely. That's why it's vital to have all the parts of the braking system examined by a Pecheles Audi technician to find the real cause of the problem.
Brake Fluid
As you may already know, your vehicle uses a number of assorted fluids in order to run smoothly. Each different type of fluid has been specially designed to carry out an extremely precise task in your vehicle. Brake fluid, as the name suggests, plays an important role in the effective functioning of the braking system. Any time you hit the brakes, pressure encourages in the fluid lines, which is then relocated to your brake pads. If there happens to be a leak somewhere in the brake fluid line, your car or truck might have problems stopping or, worse, not stop at all.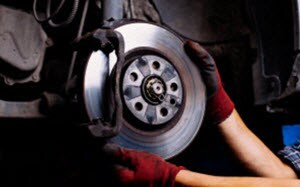 Schedule Brake Service
At Pecheles Audi, we know that maintaining a well-functioning braking system is as vital as putting on your seat belt. So, if you presume there might possibly be a problem, please stop by our service department and experience directly what top-notch brake service in Greenville, NC, looks like, or schedule your brake service appointment online today!