If you're in the market for an Audi in North Carolina, stop by Audi in Greenville to check out our inventory. Our dealership in Greenville is a short drive from New Bern and Raleigh and has a wide inventory of new and pre-owned vehicles on display at our showroom. Whether you're shopping for an Audi Q5 or Audi A4, visit our showroom to find out what our dealership offers.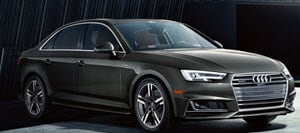 Audi Dealer near Greenville NC
Audi Dealer near New Bern NC
Audi Dealer near Raleigh NC
Audi Dealer near Wilmington NC
Audi Dealer near Virginia Beach VA
Audi Dealer near Cape Fear NC
Audi Dealer near Rocky Mount NC 
About Greenville NC
With East Carolina University in its backyard, Greenville is a college town through and through. Shops and restaurants like Christy's Euro Pub, Starlight Cafe and Farm, and Plum Tree Bistro add to Greenville's fun, youthful culture, attracting hundreds of visitors across North Carolina each year. Greenville is a community of families, students, and young professionals with a friendly, charming vibe, especially in the areas surrounding East Carolina University's campus.
About Audi Greenville
Audi Greenville is a cornerstone in Greenville's business community, serving drivers throughout the community for almost 50 years. We're a family-owned and -operated dealership that puts the customer first throughout the shopping process, and our committed, knowledgeable sales and product specialists will help find an Audi that matches your needs.
Shopping for an Audi should be fun, and we won't be satisfied until you've had a positive experience at our dealership. Our goal at Audi Greenville is to get you in an Audi you love at a price you feel good about, and we're in your corner during each step of the shopping process.
Financing at Audi Greenville
After you've found the right Audi from our inventory, Audi Greenville can help create a finance plan that makes sense for your budget. The friendly, knowledgeable consultants at our finance department will help secure an auto loan with favorable terms and conditions, and will work with your monthly budget to ensure Audi you want is affordable.
Audi Service near Greenville
Every Audi requires preventative maintenance to keep it performing properly. Luckily, Audi Greenville has a state-of-the-art service center at our dealership and a team of highly trained automotive technicians committed to keeping your Audi running like new. We're here to assist with everything from oil changes to engine tune-ups, helping to ensure your vehicle is repaired properly and in a timely fashion.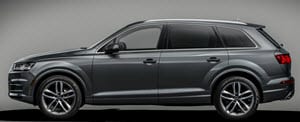 Take a Test Drive at Audi Greenville
When you're in the market for an Audi near Greenville, New Bern, or Raleigh, stop by Audi Greenville to check out our inventory. We have a wide selection of Audi models in our showroom, and our team of sales, service, and finance professionals are there for you during each step of the shopping process to help find the right vehicle for your needs.
The next time you're shopping for an Audi, schedule a test drive at Audi Greenville.