The BMW has long been considered a seminal luxury brand, and the BMW 4 Series undoubtedly lives up to this reputation. However, when Greenville, New Bern, and Raleigh drivers want the most bang for their buck, the 2017 Audi A5 may just be the best choice. In this comparison, our team at Pecheles Audi will show you why.
Audi A5 vs. BMW 4 Series: Interior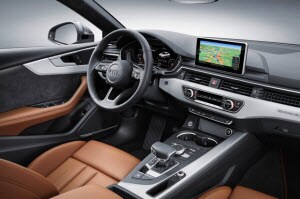 A car can't really be considered a luxury vehicle if it doesn't come with the right amenities. Both the 2017 Audi A5 and the BMW 4 Series seem to agree on this point.
Sleek leather trim is the standard in both vehicles - not just the seating, but the steering wheel and shifters as well. Both sedans also feature power driver's seats with lumbar support to aid in your comfort.
When it comes to entertainment, the BMW 4 Series offers a 9-speaker audio system, HD Radio™, and a fair amount of mobile connectivity. However, the Audi A5 goes above and beyond.
In the A5, you'll have the 7-inch MMI® center infotainment system with voice controls, dual SD card reader, Apple CarPlay™ and Android Auto™, and so much more. That should be more than enough to keep you entertained on those long drives.
Performance Specs
High power is important in a luxury vehicle too, and neither the Audi 5 or the BMW 4 Series skimp in this department. Each powertrain features a 4-cylinder engine that has been turbocharged for higher performance. The BMW 4 Series can produce an impressive 248 horsepower and 258 lb-ft of torque. However, the Audi A5 bests this with 252 horsepower and 273 lb-ft of torque.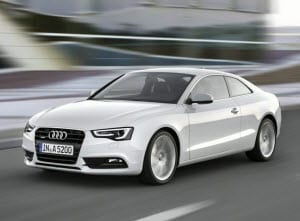 The Audi A5 also goes the extra mile in offering a standard Quattro® all-wheel drive system. This drivetrain should be able to handle slick or muddy roads with far more ease than the rear-wheel drive in the BMW 4 Series.
Audi A5 vs. BMW 4 Series: Safety Features
The Audi A5 and the BMW 4 Series have plenty in common when it comes to safety. Both are constructed with high-strength materials and include advanced airbag systems. However, they tend to differ when it comes to protective technologies.
Features like stability and traction controls come standard in each vehicle, with the BMW 4 Series featuring some added brake enhancements such as the drying feature.
However, Audi is known for its Audi Pre Sense® system, which is featured prominently in the A5. With both the basic and city versions, your A5 can monitor and react to the road around you autonomously. This can greatly help to prevent collisions from ever occurring.
Learn More About Your Next Luxury Sedan
In a contest of the 2017 Audi A5 vs. the BMW 4 Series, the Audi A5 repeatedly seems to come out ahead. But you shouldn't just take our word for it. All Greenville, New Bern, and Raleigh drivers can stop by Pecheles Audi for a test drive. Schedule yours today!